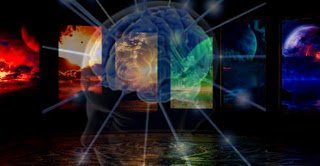 In my lessons, I was presented with these holographic, images, bit like those moving, double, pictures, prints, on wide screens.
There was about five or six, i think, scenery's, of different life experience's.
And I was asked to dive into each of  them,in turn,  and experience each one,
which was a lifetime, of an individual and all very different.
Some nice some not so nice, but my spiritual partner, was also, to experience, these, lifetimes, through the screen, and he was seeing and experiencing them, in a completely different way to me.
Even though, they were exactly the same.
So, I realized, that even though, some seemed bad, even horrific to me,
to him, they weren't, and some of what I was experiencing, was bad, horrific, to him which were good to me.
Clearly helping me, to see and understand, that its not, only, the way we think, about our own experiences, but how we also feel and see them.   We as individual's, though with a shared collective consciousness, have our own uniqueness, vision,s, views, perceptions, of what we do, feel, see, experience.